「Persona 3 FES」Special Fusion: Messiah
How to Fuse Messiah in Persona 3
Three Parts:
Messiah is the last Persona attainable in Persona 3 with the exception of Orpheus Telos. The protagonist's ultimate Persona, Messiah, is the highest-leveled Persona upon fusion, which will require your protagonist to be at level 90 at least—the same level as Messiah—or higher. Fusing Messiah requires obtaining a few high-level Personas through fusion of their own. See step 1 below to learn how.
Steps
Reaching Level 90
Get to Monad.

Monad is a great place to level up, but it's only available once you've reached the top floor of the Adamah Block, floors 215–254 of Tartarus. It's recommended that you be at least level 60 before you enter Monad.

Winning one battle in Monad at level 65 can boost your level up to 72 in an instant.
In Persona 3 FES, you will need to defeat the Reaper at the top of Tartarus in order to unlock access to Monad.
It is immediately available if you start New Game+ mode in Persona 3 FES.

Set up your party.

The most essential party member for this method is Alice, as she has the "Die for me!" skill. It is much like Mamudoon (instant death to all enemies), except that it gives a higher chance of success.

This skill will be essential for ensuring that the enemies don't get a hit on you.

Save your game.Chances are you are going to die often, so you'll want a save file that you can quickly restore to.

Enter Monad.It is located at the first floor of Tartarus, that huge double door at the right side of the stairs. You can't miss it.

Start a battle.

Find a shadow and make sure you get a preemptive strike by striking it from behind.

The shadows at Monad range from levels 88–98, making it a great place to level-grind with instant kill spells. However, failure to get preemptive strikes will also cause your party to die instantly.

Check your enemies.If a Grand Magus, Vehement Idol, Chaos Cyclops, or a Void Giant appears at the higher floors, immediately abort the battle. These four shadows will either block or reflect your "Die for me!" skill.

Spam

"Die for me!"If you encounter enemies that cannot block or reflect Dark Spell, start spamming "Die for me!" until you win the battle.

"Die for me!" gives an 80% chance to instantly kill shadows via Darkness magic.
Obtaining Thanatos
Obtain the Thanatos prerequisites.

Thanatos is the last Persona of the Death Arcana and will require the other five Death Arcana Personas to be fused. They can only be fused after 9/21.

In Persona 3 FES, you will also need Ghoul to fuse Thanatos.

Fuse Alice.To get Alice, perform a cross-spread fusion with Lilim, Pixie, Nata Taishi, and Narcissus. She can only be fused after 9/21.

Fuse Pale Rider.

You will have to complete Elizabeth's 8th request, and then use one of the following combinations. You must be at least level 24:

Ares + Mithra
Naga + Vetala
Mithra + Vetala
Fortuna + Narcissus + Mithra
Pyro Jack + Ares + Narcissus
Oberon + Inugami + Vetala

Fuse Loa.

To obtain Loa, use one of the following fusion combinations. You will need to be at least level 19 in Persona 3 and level 31 in Persona 3 FES:

Sati + Genbu
Genbu + Oumitsunu
Lamia + Vetala
Orthrus + Eligor
Pyro Jack + Ares + Queen Mab
Berith + Yamatano-Orochi + Sati

Fuse Samael.

To obtain Samael, use one of the following fusion combinations. You will need to be at least level 35 in Persona 3 and level 37 in Persona 3 FES:

Orobas + Seiryu
Seiryu + Oumitsunu
Mothman + Incubus
Power + Jikokuten + Orobas
Sati + Leanan Sidhe + Incubus
Sarasvati + Jikokutan + Eligor

Fuse Mot.

To obtain Mot, use one of the following fusion combinations. You will need to be at least level 45:

Rangda + Okuninushi
Vasuki + Cu Chulainn
Koumokuten + Seiryu
Taraka + Succubus
Ganga + Clotho +Okuninushi
Raja Naga + Virtue + Saki Mitama

Fuse Ghoul if you are playing Persona 3 FES.

Ghoul is required in addition to the five Death Arcana Personas. You will need to be at least level 18:

Pyro Jack + Nigi Mitama
Nigi Mitama + Zouchouten
Naga + Lilim
Archangel + Valkyrie + Pyro Jack
Orpheus + Angel + Lilim
Jack Frost + Chimera + Naga

Ask Igor to do a Pentagon fusion.

This can only be done after 9/21. Igor can be found in the Velvet Room. Speak to Igor and choose the Pentagon-Spread Fusion option. Select Thanatos from the list of available results.

If you are playing Persona 3 FES, select Hexagon-Spread Fusion. This will allow you to include Ghoul into the Fusion.
Fusing Messiah
Obtain Orpheus.

You will get Orpheus at the beginning of the game as he is the protagonist's base Persona.

If you used your Orpheus as a fusion element, you can purchase another one from the Persona Compendium.

Level up your Judgement Arcana.

This will come automatically as you proceed through Tartarus. Once you get to the last floor, the Judgement Arcana will automatically be maxed out. This will unlock the ability to fuse Orpheus and Thanatos into Messiah.

You will need to have chosen the correct decision to unlock the "Good" ending for the game in order to get the Judgement Arcana.

Speak to Igor to start the fusion.

Igor can be found in the Velvet Room. It can be found at either the Paulownia Mall or at the first floor of Tartarus.

Choose to do a normal fusion spread.
Select Thanatos and Orpheus as your first and second Personas for fusion.
Accept the fusion, and Igor will create Messiah.
Community Q&A
Ask a Question
200 characters left
Include your email address to get a message when this question is answered.
The Personas you need to fuse Alice, Mot, Samael, Loa, and Pale Rider can be obtained by either fusing them or obtaining them via the card shuffle after a battle.
Save your game before fusing, because although it's very rare, Igor might do a fusion accident, and you'll get a different Persona.
Messiah, unlike the other fusion Personas, will give a random piece of armor once he hits a certain level (98). Possible armors include:

Armor of Light
Shoes of Light
Aura Dog Suit
Aigis' Armor V.0
Aigis' Legs V.0
Omnipotent Orb (1% chance)
Made Recently
Loading...
Did you try these steps?
Upload a picture for other readers to see.
Upload error
Awesome picture! Tell us more about it?
Article Info
Categories:
In other languages:
Italiano: , Español: , Русский: , Português: , Deutsch: , Bahasa Indonesia:
Thanks to all authors for creating a page that has been read 39,614 times.
Video: Persona 3 Portable - 100% W. P.117-Fusion:Tri-Magic Morning Star Messiah & Chi you, Helel, Thanatos.
How to Fuse Messiah in Persona 3 images
2019 year - How to Fuse Messiah in Persona 3 pictures
How to Fuse Messiah in Persona 3 forecast photo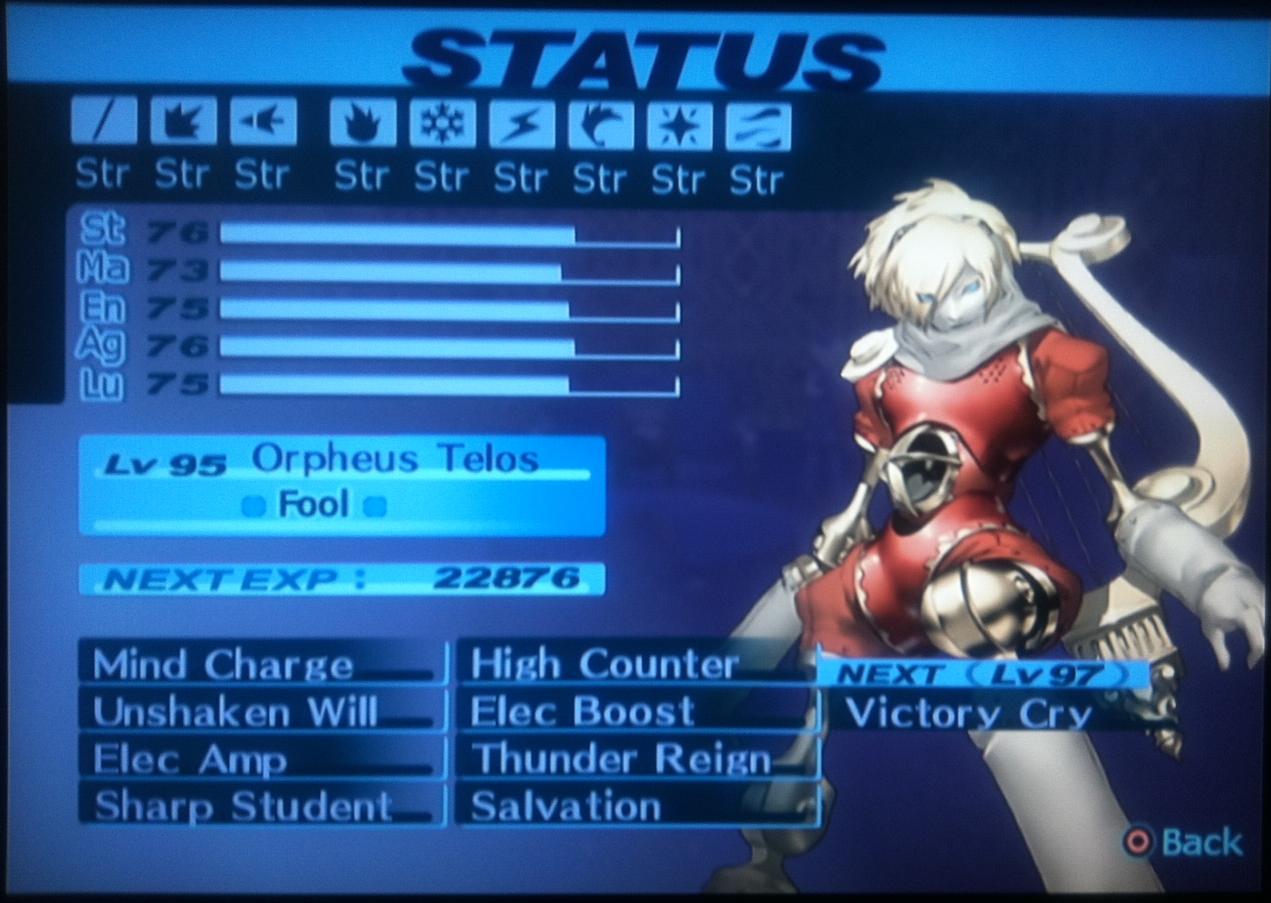 How to Fuse Messiah in Persona 3 picture
How to Fuse Messiah in Persona 3 new pics
pictures How to Fuse Messiah in Persona 3
Watch How to Fuse Messiah in Persona 3 video
Discussion on this topic: How to Fuse Messiah in Persona 3, how-to-fuse-messiah-in-persona-3/ , how-to-fuse-messiah-in-persona-3/
Related News
Songs That Mention Walking
The Workouts That Can Prevent The Flu
How to Dispose of Discarded Needles and Sharp Objects Safely
Influenza virus vaccine, H1N1, live Reviews
Pop Goes theGaultier
At-Home Workouts: A Quick Strength Flexibility Series
Ben Affleck and Jennifer Garner Are Reportedly Calling Off Their Divorce
Talk About Sex: How to Have a Conversation With Your Partner
Trumps Latest Order Bans Majority of Transgender Troops from Serving
19 Party Hairstyles For Long Hair
How to Clean a Cardiac Catheterization Site
This plus-size blogger has exposed HMs ridiculous sizing
How to Record a Video Screencast from an iPhone
Date: 12.12.2018, 17:01 / Views: 35553
---