How to wear: bodycon dresses
With party season soon approaching, it is time to bring out all the sparkly, fun and form-fitting outfits. I love bodycon or body conscious dress and how it accentuates all your curves and gives you the instant glam feel. But I really did not have the confidence to pull it off as I do not have a flat tummy and I also have love handles. (A kid and love for food does not help it either 😀 ). But slowly over the time I have learnt to embrace my body and even wear a bodycon dress without a flat stomach using some of the following tips.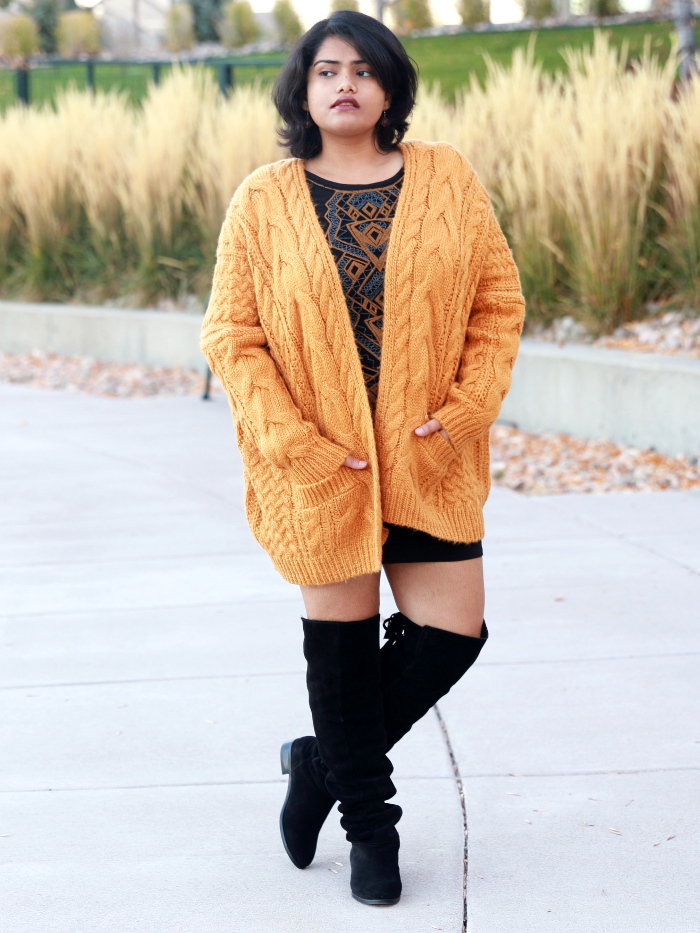 Tips to wear a bodycon dress without a flat stomach
Though I wrote these tips to wear a bodycon dress without a flat stomach, these tips are useful for any person who is intimidated to wear a bodycon dress.
Darker shades

This is the thumb rule for any outfit, darker shades make you look slimmer. So most of the times I go for black for my form-fitting outfits. With bodycon dresses black makes you look taller and slimmer. So if in doubt try a darker color like black or purple.

Thicker or structured fabric

The thicker fabric actually helps in giving an overall slimmer look and not show all the bulges. I actually love as they are so unique and are made of great quality fabric.

Layering

If you are not too comfortable showing off all the curves, then opt for a simple layer like a light knit or jacket. I decided to wear this with my look as it is not only cozy but it creates an effortless sporty chic look.




Accessories

Bodycon dresses are made to stand out so I would skimp bodycon out on the accessories and keep it neutral to complement the dress. I am just wearing my current favorite JORD Wood Watch (as you have seen ) and simple earrings for the look.

Pattern

Use the pattern to your advantage by selecting a pattern like the Aztec embroidery on my dress. It takes some attention away from the bulge. Avoid wearing thick stripes as they tend to make you look wider.

Cinched waist

Try wearing dresses which have empire neckline or have cinched waist to accentuate your waist and look slimmer. You can even get help through a to reduce the stomach and enhance your waist.

Shapewear

can help you achieve the seamless and smooth foundation for the bodycon dresses. Even Tim Gunn of Project Runway fame recommends that it is a must to hide the unwanted bulges even for men. But I am not wearing one for this outfit as I am still not too comfortable in it. I would love to hear if you have any suggestions for me.

Shoes

Bodycon dresses are as if meant to go with the sky high heels to create that glamorous and confident look. But walking in them is no fun if you are too conscious about the look. Try wearing it with a sexy pair of over the knee boots. They work really well specially for the cooler fall days. Or maybe even try flats for a change.

Smile and pose

Smile is your best accessory. Always wear a smile on the face to take drive the awkwardness away. And pose showing off your best features like your carved arms or legs you have been working on. As I have bigger chest and wider hips I try not to strike a side pose when wearing a form fitting outfit. But here is just one to show how the bodycon dress looks on me. Yes, holding my breath was involved 😀
Do you have any bodycon favorites or tips for me?
Outfit Details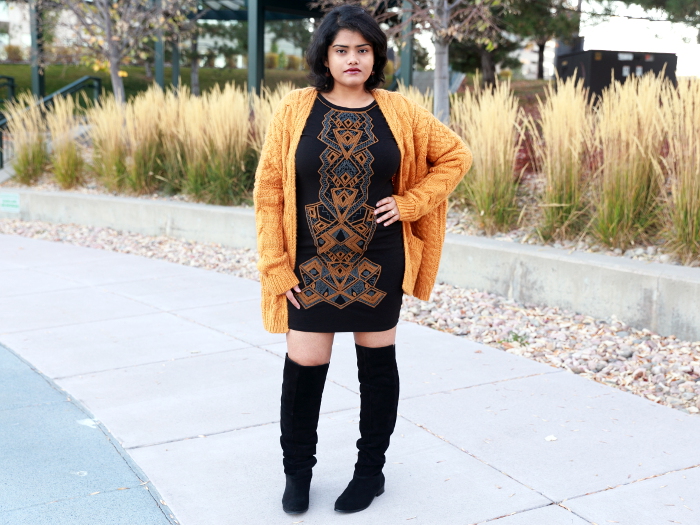 Free People Aztec Princess Bodycon Dress in Black (similar here and here) | Romwe | ASOS Kitch Over the Knee Boots | JORD
Shop the Look

Related
Posted in:,,
Outfits
, | Tagged:,,,,
Похожие новости
Massimo dutti evening 2018 collection
You are so beautiful 2018
Adidas basketball shoes derrick rose 2018
Wedding dresses for cheap plus size 2019
Candidly nicole hair 2018
Curly dark blonde hair 2018
How to wear patterned tights 2018
ШОКИРУЮЩИЕ НОВОСТИ