Skin Care Tips for 40 Year Old Woman
Tips 40-Year-Old Women Should Keep in Mind When Choosing Hairstyles
Most women in the ripe years have already found their own styles and could have enjoyed their lives just keeping them in line with current trends. Unfortunately, age-related changes foul things up, affecting face features, body and hair. However, there are lots of stylish hairstyles for women over 40, flattering both the face and body silhouette, while factoring out years. You just need to focus on the personal traits we are going to discuss further.
Trendy Hairstyles by Hair Length
Your new mature hairstyle will depend on both your preferred length and hair condition. And you should take the second factor seriously, since age-related changes can have an impact on your earlier preferences. Heed the stylists' advice; the more so that they offer a bunch of beautiful hairstyle options for various lengths through a lens of hair condition.
Short Hairstyles for Women Over 40
Many women in their 40s opt for short haircuts on a hunch, and they definitely have a point. It's not for nothing that most of us believe the length of the hair depends on the age of a woman – the older a woman gets, the shorter her hair should be."The most common changes that occur in our hair as we get older are graying,changes in texture and density, and thinning, particularly at the crown or in the front of the hairline,"says , a New York City-based expert on hair.
Certainly, with age the hair requires much more care, and this is why some older women prefer to do away with the problem by cutting off the excessive length. It is easier to look after short hair and to keep brittle ends at bay, isn't it? Besides, both the pixie and the chin-length bob are great for spotlighting your face.
Close
via @heatherjuddstylist
Pixie cuts are the hottest among short hairstyles, since they have this magic youth-restoring effect and allow choosing lengths of hair strands to emphasize the merits (or balance demerits) of any face.
via @hairbynathi
However, A-line bob cuts are fitting rivals, when they have this trendy layered effect. It makes the hair fuller and gives a nice chance to show the play of hues.
via @skyecurriehair
This minimalistic bob cut is a good choice for well-groomed fine hair. The side parting and casual strands tucked behind one ear open the face and add a playful touch.
via @tst_with_refined
If you are not satisfied with the volume of your fine hair, you can help it by choosing a wavy bob cut. And you will get even more texture through engaging colored streaks, carefully selected to fit your basic hair color and complexion.
via @publichairhouse
If your hair is curly, you can skip all that blow-wave fuss and opt for a hot messy hairstyle, praised for its natural and sexy feel.
via @be.you.tiful_salon_
This edgy stacked pixie-bob hides graying to good effect, while catching the eye with its awesome texture and gorgeous color combination.
via @shawna.hines
Focus on layered haircuts with bangs, especially the side swept ones – they are real go-to options, framing the face softly and balancing facial features.
via @hairbymemle
Side swept bangs hit the mark with hair of various colors, but if you want to add some twist to your dark short hair, consider textured bob cuts with locks of different lengths.
via @j.christinesalon
Risk exciting sassy haircuts like this voluminous layered and feathered bob with its uncommon back and forth styling.
via @texturedbymeg
And sure, this tousled hairstyle combined with a natural-looking color solution will make you look younger.
Medium Length Hairstyles for Women Over 40
Well, if you are not inspired by the bold short haircuts for women over 40, let's turn to medium length hairstyles, which are also among our top picks. The maintenance is still easy, the look is more feminine and there is quite a lot of space for creativity.
Shoulder-length hairstyles allow balancing face and body proportions, for example, hiding a thick or short neck. Also, they do a great job of visually slimming plus-size ladies. Super short cuts should be used with caution for overweight women (adequate volume is a must!), while hair tresses, gently framing the face and softly falling down on the shoulders, make the look less heavy in most cases.
However, untamed manes can be a problem."Medium length hair looks great when it's maintained well,"says , Creative Director at Hare and Bone, and recommends keeping the hair on the longer side of medium. "The longer and heavier the hair, the more controlled it will be," he believes.
Close
via @balyagebymike
Go for this layered medium length hairstyle, coupled with a wonderful balayage piece of work. It illuminates the hair from the inside and adds much vividness.
via @saritadawn
On the other hand, this blunt collarbone-length cut allows radiating blond hues no less dramatically, while emphasizing the neat shape.
via @jeffersonbolina
If you are a lucky owner of thick hair, you can add texture to your natural volume by vibrant colored streaks and wavy styling – isn't it fresh, playful and youth-restoring?
via @rachelwstylist
To avoid excessive heaviness, which is definitely not what a 40-year old woman wants, make your hairstyle airy and sexy with a messy effect and intricate side-swept bangs.
via @muse_studio_pdx
The layered hairstyle changes the situation radically for thin hair, making it fuller and more dynamic. It is easy to rock it when blending lighter and darker hues for a more textured feel.
via @minkimcolorist
The wispy bang gives the desired softness to facial contours and the wavy ends create the required volume that is critical for thin hair.
via @makeupelfie
Choose straight shoulder length hairstyles for round faces to add some length and to hide the cheeks like it is shown here.
via @summerevansstudio
The shaggy lob is a fantastic way to volumize limp strands, while getting a daring look coupled with an anti-aging effect. Use appropriate styling products for a more distinctive texture of this medium choppy cut.
via @shawna.hines
Don't be at pains creating perfect locks for your wavy hair. You'd better opt for casual, yet crisp and youthful hairdos as opposed to stiffer hairstyles.
via @salonhalo
The play of hues, ranging from dark ones to almost blondes, will make your wavy bob cute and dimensional.
Long Hairstyles for Middle-Aged Women
If you like your hair long and it looks healthy, why pander to popular choices and lose your own style by cutting it off? There is quite an assortment of hot hairstyles for long hair, and there are some tips from stylists to see you through it.
"Bangs are great for any age and for all hair types,"
celeb hairstylist says. Choose soft, wispy, arched, razored and side-swept bangs rather than thick, blunt or sharp-lined options.
Steer clear of the cuts with the same length all over. They look dated and dull in most cases, especially when the hair is thin (and it gets thinner with age!) Instead of emphasizing this thinning with a classic long hairstyle, add depth and dynamics by choosing one of beautiful and fashionable layered cuts.
Close
via @raymondserio_colorist
Wearing long hair over 40, you get more texture and volume when matching hues are combined and this lovely feathered effect is created.
via @hairstylistmonique
To add some body to your hairstyle, blunt ends on the longer side can be coupled with much shorter strands around the face, framing it softly.
via @salonmaffei
The side-swept bang plus the deep side part produce a stunning volumizing effect, which is especially advantageous for thin hair. The color play and layering do the rest for the cool look.
via @hairmajesty_1
The long curly hairstyle is a bit unexpected, yet vivid and touchable. A blink of a contrast color can make a twist adding a teasing detail.
Choosing Hairstyles by Hair Type
Your hair texture and density really matter when it comes to choosing a youth-restoring hairstyle. Let's go over our key points – thick hair can look bulky and shapeless, while thin hair lacks volume.
Though layering is a popular trick for thin locks, hair experts often give preference to blunt cuts for this hair type."A lob with a blunt line finish makes fine hair look much fuller,"says celebrity stylist . A sleek angled bob or a mid-length cut with bold side bangs are among the best alternatives to choppy layers.
Since thick hair requires texture and shape, blunt bobs for thick hair seem unflatteringly blocky. Choppier bob options help avoid a sharp triangular silhouette, making the hairstyle lines softer and more age-flattering. However, keep in mind that the longer your mane is, the better it should be controlled, so you can opt for long layers.
Close
via @hilary.farrell
For boosting the volume of thin hair over 40, create some depth by varied color and texture. Have you noticed how the choppy layers work to deliver playful movement?
via @hairbykatelyn_greer
Shaggy styling is encouraged, since it looks vibrant and flirty, while darker hues of roots add body to thin hair.
via @headrushdesigns
This graduated bob is gorgeous; the angled cut balances the weight of thick hair, yet emphasizes its abundance. A thick bang is just perfect for the rich mane.
via @blakeatpenzone
A-line bob and textured waves – what a combination! Sophisticated highlights compliment the cool shape making thick strands look really fantastic.
via @elyserox00
Edgy ends, longer side tresses and the all-natural balayage transition go well with this fine hair – it retains its initial airy touch and gains more texture.
via @karyn_sv_galovich
The short piece-y bob arrests the eye with its amazing mix of highlights and lowlights, looking anything but flat.
via @joyblisskuafor
The chic pixie cut has everything fine hair over 40 cries for – lifted roots, messy styling, wispy bangs and the crisp shade of gray.
via @texturedbymeg
The mid-length shaggy bob will make you look younger thanks to its dynamics, but you need to keep the layers to a minimum – otherwise, your fine hair risk losing the body.
via @salsalhair
A 40 year old woman with curly hair can opt for romantic spiral curls created with the help of a curling iron – this looks natural and appealing.
Looking for Flattering Hairstyles by Face Shape
Women in their 40s should be picky about their haircuts with due regard to the face shapes – otherwise, they may miss a nice chance to balance facial features and to get the desired rejuvenating effect."A lot of women get hung up on long hair making their face look slimmer but a lot of the time that's not the case,"says . Indeed, while round face shapes do strive for slimming, narrow faces will hardly benefit from it.
Build your hairstyle on the fact that round faces can avail of a mix of length, long side-swept bangs and choppy ends. Balance square faces with emphasized layers or soften the angles with straight and really long hair. Oval faces look cool with center parts and all-one lengths, especially in shoulder-length cuts. Vice versa, long faces can be visually shortened with chin-length haircuts like the classic bob or a little bit longer cut.
Close
via @sarahkahnhair
Since it is vital for square faces over 40 to deflect attention away from a strong jaw line, the shoulder-length cut can do the job, while the arched bang helps soften the face.
via @chekatilda
A deep side part creates this asymmetrical feel that flatters women with round faces. And there is no excessive volume on the sides with the straight blunt haircut!
via @caitlinsenna
This mid-length bob with a side-swept bang and textured locks compliment long faces by removing some length off the facial contours and adding the lacking volume on the sides.
via @shawna.hines
A fine way to balance oblong faces is to cut short layers around them and to incorporate edgy bangs – this allows wearing even longer hairstyles.
via @crownbeautybar
You can add a little volume to oval faces by shifting to a deep side part which creates more body on one side and makes the look more dramatic. Especially, with a strand tucked behind one ear.
Great Haircuts Over 40 Matching Your Personality
Following current trends is not so critical when choosing your hairstyle."It's important that a hairstyle suits your hair type and texture, and your personality,"says , a Vancouver-based hair artist. Will you be able to wear this or that haircut feeling comfortable and confident? If not, it is not going to work!
Pick your new haircut factoring your lifestyle, temperament and other individual features in. When you are not sure you can cope with a hairstyle, opt for a lighter option, which is less demanding or more matching your character. Sure, you should trust your stylist, but if a trendy haircut is annoying, you'd better try something else.
Close
via @publichairhouse
For example, hairstyles with bangs combed straight down will make you feel more confident, if you are concerned about your forehead wrinkles.
via @keithkristofer
If you don't mind opening your brows, think of something like this sculptured pixie-bob with a long bang and an elegant wave on the top.
via @alteregoraleigh
Are you one of the women who hate all this styling fuss and need a low-maintenance option? Then, this messy cut with a teasing see-through fringe is definitely for you.
via @looksbysal
When you have plenty of time and desire to experiment with styling, go for haircuts with longer bangs. Both side-swept and center-parted bangs can add an unusual edge to your look.
via @hairbymemle
There is a nice solution for those women who are in search of a new color scheme to refresh their classic layered haircuts. A little bit of glow to your blonde and crisp wavy styling to your cut – the result is stunning!
via @donnyandhair
Active women will certainly like this sassy version of the timeless bob with a lot of layering and movement.
via @_dee.stylist_
Don't like going to extremes? Try this soft, yet cute bob, which is slightly asymmetrical and just a bit layered.
via @_motionblur_
Take this hip pixie cut with a brushed-over quiff. It is amazing, but it requires certain courage, thus working fine for daring women.
via @summerevansstudio
The next cut is also stylish with its edgy strands, messy top and expressive color combination. Yet, it provides more freedom in styling.
via @sueblackexclusive
If you are more of a romantic nature, you may like long haircuts that allow for elegant updos like ponytails, buns and braids.
Best Hairstyles for Women Over 40 Based on a Preferred Look
Still confused about the choice? Think of the look you want to create. And don't even say that a 40 year old woman is predetermined to wear only classics! Actually, even one haircut, whether classic or not, can provide you with multiple styling options for creating various looks. From glamorous to bohemian, from bold to romantic, it's up to you what you are going to deliver through your hairstyle.
Whichever look you choose, don't make the "too much" mistake, wearing too long, too highlighted or too done hair."They all make you look older,"says celebrity hairstylist .
Close
via @bukesalon
When searching for a classic option, get this shoulder-length haircut with minimal layering, but maximal volumizing due to the fantastic lowlights.
via @publichairhouse
Delicate shades, choppy layers and razored effects help create this chic look.
via @emilyandersonstyling
Go funky with the boldly highlighted and toned haircut boasting much texture and movement.
via @cpweddingartistry
Feel romantic with one of intricate hair up styles, but don't forget to add a modern touch with subtle highlights.
via @hairstylistmonique
Be at ease with this unshowy, yet sophisticated 'do that shifts the focus to the face, rather than the hair.
via @hausofheir
Create a balanced look with glasses by matching the shapes and lines.
via @curlfactor
Add an exciting colorful twist to ethnic black women's hairstyles.
via @elyserox00
Blondes can look gorgeous radiating stunning shine, when highlights are creatively chosen. Sun kisses rule!
via @endersheather
This gentle look with soft waves is just created for moms of different ages, emphasizing their tenderness and elegance.
With so many awesome options for a 40 year old woman, you are sure to find your flattering one based on the preferred lifestyle and personal traits. If you don't hit the mark from the first try, go on until you find your new mature style – unique, on-trend and age-defying.
Video: Skincare for 40 Year Old Women | Skincare During Menopause | Dr.Jaishree Sharad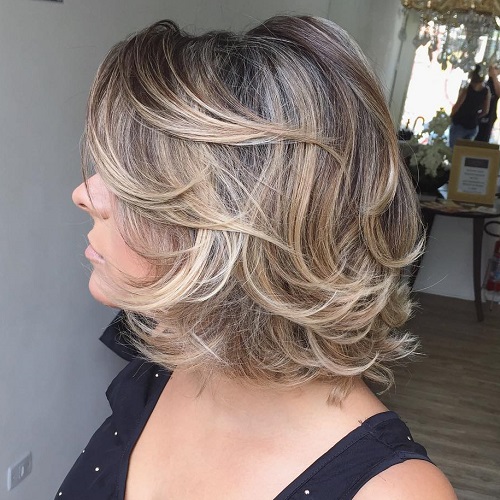 Tips 40-Year-Old Women Should Keep in Mind When Choosing Hairstyles images
2019 year - Tips 40-Year-Old Women Should Keep in Mind When Choosing Hairstyles pictures
Tips 40-Year-Old Women Should Keep in Mind When Choosing Hairstyles forecast photo
Tips 40-Year-Old Women Should Keep in Mind When Choosing Hairstyles images
Tips 40-Year-Old Women Should Keep in Mind When Choosing Hairstyles new photo
images Tips 40-Year-Old Women Should Keep in Mind When Choosing Hairstyles
Watch Tips 40-Year-Old Women Should Keep in Mind When Choosing Hairstyles video
Discussion on this topic: Tips 40-Year-Old Women Should Keep in Mind , tips-40-year-old-women-should-keep-in-mind/ , tips-40-year-old-women-should-keep-in-mind/
Related News
How to Pick up a Guy at a Bar
Learn How To French Braid – It Is Easier Than You Think
How to Build a Snow Fort
See the Complete List Of Victoria's Secret Angels To Walk for The 2015 Show
How to Get a Second Bachelors Degree
The Stylish (And Affordable) Boyfriend Jeans Our Favourite Celebs Love
Can a Laser Improve your Sex Life
Fifty Shades Sequel Casts Elena Mrs. Robinson Lincoln, Christians Domme
Cholera Vaccine, Live
Nail The New Season Trends With Tu at Sainsbury's
Amy Kraft
Heliox and COPD Treatment
Date: 10.12.2018, 18:03 / Views: 82295
---